Year 3 News of The Week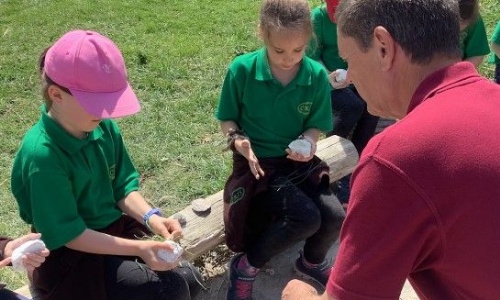 Year 3 enjoyed the wonderful sunshine during their trip to Butser Ancient Farm. Firstly, we explored the reconstructed Iron Age village and experienced what life was like inside a round house. It was very smoky! It fascinating to see all our learning come to life and the staff were very impressed with our Iron Age knowledge.
Afterwards, we had the opportunity to experience four workshops about the Iron Age.
We excavated an archaeological site just like real archaeologists. We used trowels to carefully uncover artefacts buried in the sand and then estimated how old they were.
We learned the ancient art of raw wool spinning using a drop spindle to create a yarn which we turned into bracelets. This required a lot of persevering and resilience but we were really impressed with our finished items.
It was really important that we were careful when etching our chalk carvings. We used sharp flint stones to draw pictures onto pieces of chalk and we used grass and dandelions for colour.
We enjoyed wattling on a large scale because we had already learnt this skill when we made our model round houses in forest school. The pieces of wood were so long that we needed four people to weave each one.