Year 5 Synagogue Visit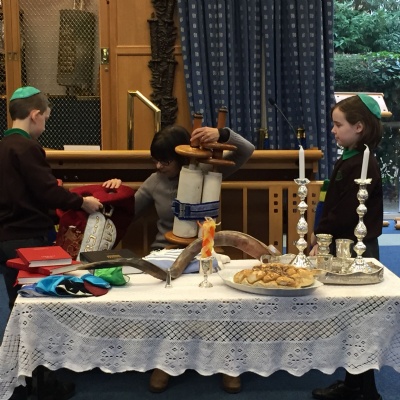 Year 5 pupils have an enjoyable and informative visit to North West Surrey Synagogue in Weybridge.
On January 12th, both year 5 classes visited the synagogue in Weybridge. The guide at the synagogue was very impressed with the level of knowledge of the pupils, who were curious to learn more about the Jewish faith. Apparently we were one of the first school groups to notice the mezuzah by the doorway of the synagogue, which identifies it as Jewish.
The children were given the opportunity to read the most holy Jewish book called the Torah, and also examine other religious symbols including the shofar, a polished ram's horn used in Jewish services at certain times of the year to mark important events. Some of the children also tried on a tallit, a prayer shawl that is worn during prayers.
The class teachers were delighted with the children's behaviour and attitude to learning and thoroughly enjoyed the trip with them.