Spectacular Spring of Sport at CRJS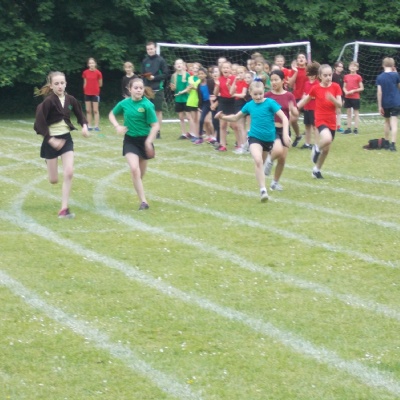 It has been a spectacular springtime of sport at Crawley Ridge, with children throughout the school participating in a wide range of sporting activities. Rachel Taylor, Sports Co-ordinator for the school, explains why.
During Sport Relief week, 19th- 23rd March, all pupils were encouraged to take part in a range of physical activities including skipping, hula hooping, football 'keepie uppies', hockey dribbling, aerobics and the daily mile. We all enjoyed keeping fit whilst having fun.
Our 'Chance to Shine' cricket programme has continued this year, in collaboration with Camberley Cricket Club. Professional coaches from the club have delivered lessons to years 3, 4 and 5. We have also been fortunate enough to have coaches from Harlequins Rugby Club coaching Year 4 in tag rugby skills. The coaches were so impressed with our pupils, they were invited to demonstrate tag rugby skills as part of the half time entertainment of the Aviva Premiership Rugby Final at Twickenham Stadium on 26th May!
We have also enjoyed success at local tournaments. Our Year 5 netball team are now Surrey Heath Champions, winning every game in their tournament and keeping their cool during a nail-biting final. In addition, our Year 5/6 hockey team are also Surrey Heath champions. This title took us through to the county finals in Hazelmere, a wonderful experience for our players.
The year 5 girls and a mixed year 6 team played Surrey Heath schools at Frimley Cricket Club. The girls came 3rd out of 8 teams , whilst Year 6 came 2nd. The Year 3/4 Quad Kids athletic event took place on Wednesday . Our A team came 2nd and our B team came 5th out of 8 teams competing. There was also individual success for Crawley Ridge; Isla Friend- James was awarded fastest girl overall and Sophie Rushe was third fastest girl.
A team from years 3 and 4 took part in the Tri Golf event at Holy Trinity School and we took a team of pupils from years 3, 4 and 5 to the Panathlon event at Woking Leisure Centre. Here, our pupils had the opportunity to try curling, football shooting, target throwing and basketball hoops. We were delighted to come 3rd in this event, bringing home medals, certificates and another trophy to add to our collection this term.
The half term culminated in our Sports Day on 22nd May - bringing the whole school together in a celebration of team work and physical activity.
The final half term of the year holds even more events - we look forward to mini tennis, Quad Kids for years 5 and 6 and more cricket. We are really pleased that so many pupils are enjoying sport as part of a healthy lifestyle and reaping the benefits that it brings to both their physical and mental well-being.