Remembrance Week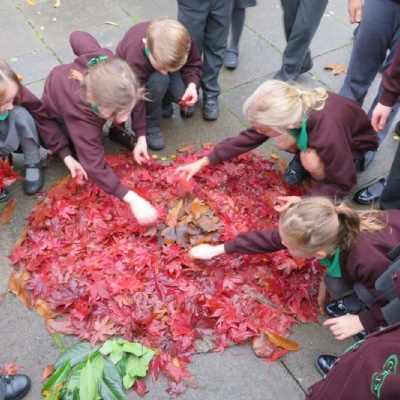 During the week commencing 12th November 2018, the whole school participated in a variety of activities and events designed to commemorate the 100th anniversary of the end of WW1. Each year group focussed on a specific aspect of the two world wars and read an age appropriate piece of literature designed to encourage discussion and allow the children to reflect on the significance of remembrance.
For the children in year 3, the trenches of WW1 had been recreated. They were welcomed on Monday morning by a cold and dark classroom, echoing to the sound of battle and gunfire. Crawling on their hands and knees, the children made their way through the trench in the dark, making sure that they kept their heads down to avoid enemy fire. Continuing the theme in their cookery lessons, they also made very tasty 'Trench cake' .
In Year 5, the children were given evacuee name tags to hang around their necks and shown wartime clips of children being evacuated from London. The children then wrote letters home about their experience; for most city children, this was the first time that they had seen the countryside or taken part in activities such as tree climbing or egg collecting.
'War Horse' by Michael Morpurgo was the literature chosen for Year 6. The children learnt about the conditions in the trenches and discussed the impact of warfare on the young soldiers and on the friends and relatives who had been left behind at home.
In their art classes during the week, each year group used the theme of the poppy to create some stunning artwork: Year 4 made poppy wreaths and stained glass windows; Year 6 made origami poppies and wove branches to make wreaths; Year 5 made press prints of poppies and decorated them with black glitter.
The Remembrance week culminated on Friday 16th November with Red, White and Blue day; children and staff came to school dressed in these colours and made donations of £1, which were then given to military charities. In assembly, children from Year 6 also shared research from their own family history about family members who had fought or died in the wars.
The whole school event was very moving and encouraged the children to reflect on the meaning of remembrance in relation to the two world wars, but also modern day conflict and the future hope for peace.