Sponsored Reindeer Run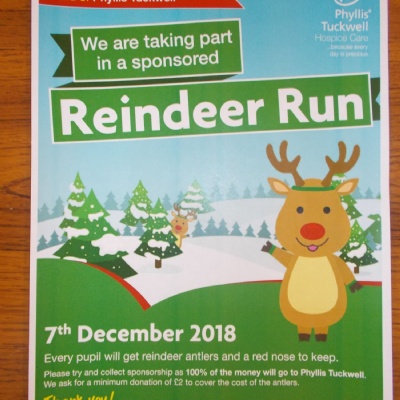 CRJS is taking part in a sponsored Reindeer Fun Run on Friday 7th December to raise vital funds to support Phyllis Tuckwell Hospice Care. The charity provides supportive and end of life care for patients and families who are living with an advanced or terminal illness, such as cancer.
Please help the school to raise as much money as possible by sponsoring your child to dress up as a reindeer and take part in a fun run around the school field. The children have all been given a a sponsorship envelope which they need to bring in to school on 7th December, which is the day of the run. Each child will be given a set of antlers to wear during the run and they will be able to take these home afterwards. The Year 5 and 6 run will start at 1.15pm and the Year 3 and 4 run will start at 1.45 pm.
These fun runs are an exciting event for the children in the build-up to Christmas; they also help encourage fitness and exercise at the same time as supporting an important local charity. The charity provides all its services free of charge to its patients and their families and so relies heavily on the support of generosity of the local community to raise funds because the NHS/Government only covers 20% of its costs.
Thank you for helping us support Phyllis Tuckwell so that the charity can continue its vital work. We are looking forward to raising money for such a worthwhile cause in a fun and active way.