Year 4 News of The Week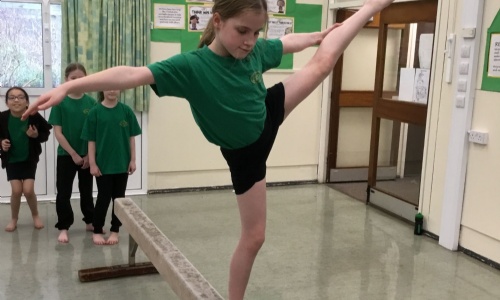 The children have been working incredibly hard on developing their gymnastic skills using the floor and apparatus.
Here is what the children have said about their gymnastics in the Spring term:
"I have really enjoyed the springboard onto the low vault and I have improved a lot," Sophie
"On the beam, we've learned to travel by stepping forwards as well as backwards with great care." Sophia
"I like the benches as they are wider. I can do bunny hops to travel along them and try out ideas for travelling, balance and jumping before using the beam," Sofia.
"I have got better with my coordination for jumping onto the springboard to get the height to jump up onto the low vault safely," Savannah.
"I have thoroughly enjoyed working with a partner to synchronize a routine. We are using the bench to rehearse our skills together and mirror each other," Nina.
"On the floor, we had completed teddy bear roll. it is vital to keep the tension in your legs as you roll," Jessica.
"I have really enjoyed making up my own sequence and was inspired by the simple routine we learnt to show our travel, balance and jumps," Isla.